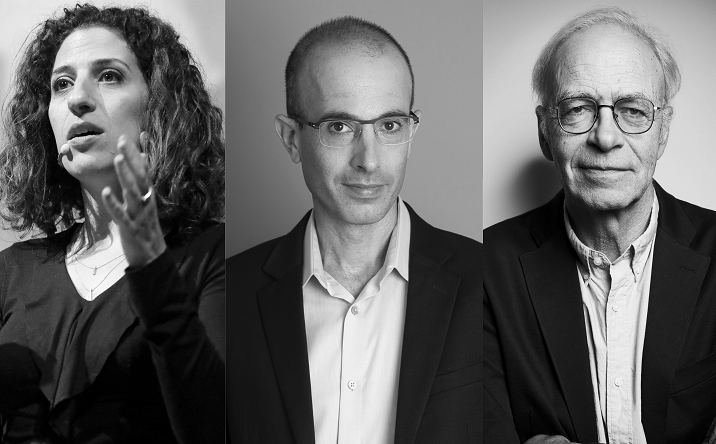 Photo: Yael Tzur, Alletta Vaandering
What Did You Do Today for Planet Earth? Peter Singer and Yuval Noah Harari in Conversation with Liad Mudrik
In collaboration with the Konrad-Adenauer-Stiftung in Israel

Add To Calendar
5/15/2022 19:00
5/15/2022 20:00
Jerusalem
What Did You Do Today for Planet Earth? Peter Singer and Yuval Noah Harari in Conversation with Liad Mudrik
On the Power of Responsibility
The event is online - Viewing is free
Opening remarks: Dr. Beatrice Gorawantschy, Director of Konrad-Adenauer-Stiftung
Prof. Peter Singer (Australia) is one of the most important philosophers of his generation and a key figure in the animal rights movement. He is also one of the leaders in the fight against global poverty, and supports abortions and euthanasia out of a desire to reduce human suffering. In his groundbreaking work Animal Liberation: A New Ethics for Our Treatment of Animals, Singer exposes the chilling realities of "factory farms" and product-testing procedures, destroying the spurious justifications behind them and offering alternatives to what has become a profound environmental, social, and ethical issue.
Prof. Yuval Noah Harari (Israel), who wrote the introduction to the new edition of Singer's foundational book, is an Israeli historian whose books Sapiens: A Brief History of Humankind (2011), Homo Deus: A Brief History of Tomorrow (2015), and 21 Lessons for the 21st Century (2018) have been translated into more than sixty languages and sold 40 million copies.
Prof. Liad Mudrik will speak with Singer and Harari about human responsibility towards animals, growing poverty within a neoliberal order, and the increasing impact of globalization on the planet.
This event is part of the special series On the Power of Responsibility, which was organized in collaboration with the Konrad-Adenauer-Stiftung in Israel and is dedicated to examining the relationships between power, state, economy, and climate in the twenty-first century. The three sessions of the series were created in response to the new global reality dictated by the Russian army's invasion of Ukraine, and will address the individual's place in society and his commitment to community and the environment.
For more events in the series:
The event will be held in English with Hebrew subtitles.
The event will be streamed on Facebook.
Viewing is free of charge. No registration is required.