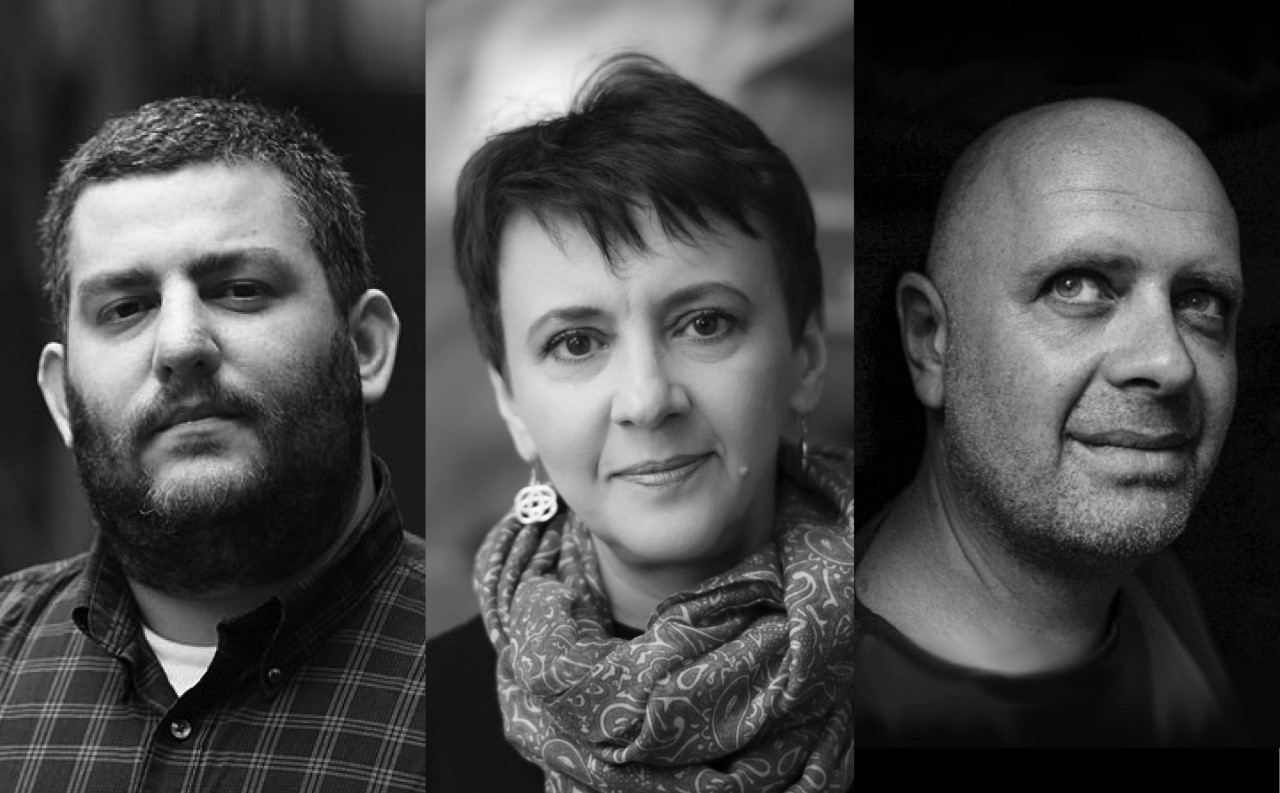 Photo: Avichai Nitzan, Pavlo Botanov, Jasanpictures
While the Guns Roar: Oksana Zabuzhko and Shalom Boguslavsky in Conversation with Asaf Bartov
In collaboration with the Konrad-Adenauer-Stiftung in Israel

Add To Calendar
5/18/2022 19:00
5/18/2022 20:00
Jerusalem
While the Guns Roar: Oksana Zabuzhko and Shalom Boguslavsky in Conversation with Asaf Bartov
On the Power of Responsibility
The event is online - Viewing is free
Opening remarks: Dr. Beatrice Gorawantschy, Director of Konrad-Adenauer-Stiftung

On the eve of the Russian invasion of Ukraine, writer Oksana Zabuzhko (Ukraine) was in Poland on a tour promoting her new book. Since her flight was canceled (and reality changed radically overnight), Zabuzhko chose to stay in Poland, where she gave interviews and discussed her country's politics in the European media. Thanks to her status as a renowned author, she was invited to speak before the European Parliament, a privilege previously reserved for European citizens or government officials.
Zabuzhko's literary work is mainly concerned with the connections between national identity and gender identity. Her debut novel, Field Work in Ukrainian Sex, written in the late 1990s (and soon to be published in Hebrew), is considered one of the most important works of post-Soviet Ukrainian literature. It influenced an entire generation of authors in independent Ukraine and has been referred to as the "feminist bible." The book has been translated into 15 languages and is taught as a compulsory text in eastern European literature departments. Shalom Boguslavsky (Israel), a tour guide and leader of study tours in eastern Europe, and Asaf Bartov (Israel), founder of the Ben Yehuda Project and the Nemala initiative (which aims to translate Ukrainian literature into Hebrew for the first time), will speak with Zabuzhko about the intersection of literature and national identity, writing during war and crisis, and the political power of the author.
This event is part of the special series On the Power of Responsibility, which was organized in collaboration with the Konrad-Adenauer-Stiftung in Israel and is dedicated to examining the relationships between power, state, economy, and climate in the twenty-first century. The three sessions of the series were created in response to the new global reality dictated by the Russian army's invasion of Ukraine, and will address the individual's place in society and his commitment to community and the environment.
For more events in the series:
What Did You Do Today for Planet Earth? Peter Singer and Yuval Noah Harari in Conversation with Liad Mudrik
The event will be held in English with Hebrew subtitles.

The event will be streamed on Facebook.

Viewing is free of charge. No registration is required.