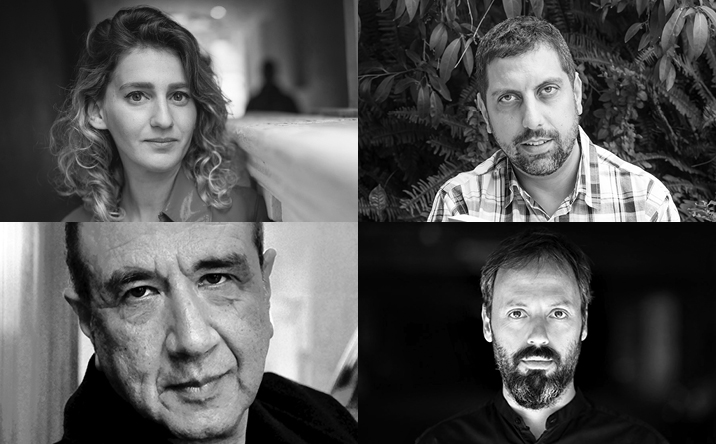 Photo: Ilan Spira, Gil Rouvio, Liora Somek, Dan Perez
The Forbidden Picnics: Coffee
As part of the Literary Café program

Yael Garden, Mishkenot Sha'ananim Cultural Center
Add To Calendar
5/6/2021 17:30
5/6/2021 19:30
Jerusalem
The Forbidden Picnics: Coffee
Featuring Itay Mautner, Ronny Somek, Noa Berger and Mahmoud Muna
A series of outdoor picnics to make up for everything we longed for over the past year: kisses and touch, the aroma of fresh coffee in a real cup, social life and parties. So, get dressed up, get out of the house, and join us for kisses, coffee, and a little black dress!
Turkish, Americano, instant, espresso, filter, café au lait, and even decaf—coffee is one of the few pleasures in the world that unites all of humanity, past and present. Our cafés, where we love to meet, write, converse, or just stare, have been locked up for the past year.
Creator and curator Itay Mautner will seek to awaken the beans from their slumber and wonder what the steamy black liquid tells us about our social and cultural lives. Mautner will speak with Ronny Somek, poet and professional coffee drinker, Noa Berger, coffee sociologist, and Mahmoud Muna, owner of the Educational Bookshop in East Jerusalem, a man of quiet revolutions and a coffee connoisseur.
Of course, no picnic is complete without a picnic basket! You are welcome to enjoy a basket we have created especially for you together with the Ofaimme Farm for Sustainable Agriculture. In the "Coffee" basket you will find a bag of chocolate-covered coffee beans, pralines filled with coffee cream, a vanilla espresso cake, milk rolls, bottles of seltzer, and jars of za'atar, jam, goat cheese, and olive spreads. At the entrance to the picnic, you will receive a cup of coffee of your choice from the favorite cafe "Rosters" in the Mahane Yehuda market
17:30: Doors open: music by DJ Gura G

18:00: Event begins

Due to the limitations imposed by the Ministry of Health, you may purchase one of the following tickets:
1. A double picnic basket and two entrance tickets for ILS160.
2. A picnic basket for three and three entrance tickets for ILS230.
3. Two double picnic baskets and four entrance tickets for ILS300.
For tickets you can also contact the offices of Eventer at *6627
Single tickets are unavailable.
The number of tickets is limited.
The event will be held in English and Hebrew.
The event will take place outdoors. We recommend wearing warm clothing.
Join our Facebook event