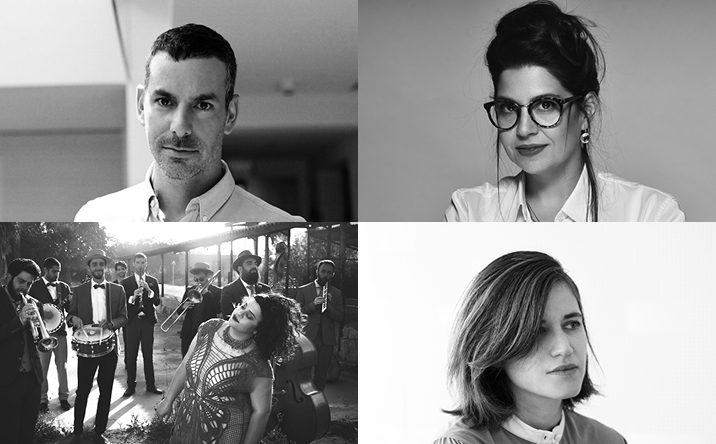 Photo: Merav Ben Loulou, Meir Cohen, Danielle Cohen Dinar, Roni Cnaani
The Forbidden Picnics: A Little Black Dress
As part of the Literary Café program

Yael Garden, Mishkenot Sha'ananim Cultural Center
Add To Calendar
5/6/2021 20:30
5/6/2021 22:30
Jerusalem
The Forbidden Picnics: A Little Black Dress
Featuring Yaara Keydar, Yaara Shehori and Eyal de Leeuw
A series of outdoor picnics to make up for everything we longed for over the past year: kisses and touch, the aroma of fresh coffee in a real cup, social life and parties. So, get dressed up, get out of the house, and join us for kisses, coffee, and a little black dress!
After a whole year spent in pajamas, we can finally wrestle with the fateful question: "What should I wear?" Welcome to our picnic, our cocktail party, which will be dedicated to the beautiful evening clothes and social life that we've all missed. Fashion historian and curator Yaara Keydar will join Yaara Shehori, an author and editor who studies literature and fashion, and together they will talk with culture and content expert Eyal de Leeuw about glittering social life in literature and cinema—from The Great Gatsby and Breakfast at Tiffany's to Bridgerton— and lavish parties worth dressing up for, in reality and imagination.
Of course, no picnic is complete without a picnic basket! You are welcome to enjoy a basket we have created especially for you together with the Ofaimme Farm for Sustainable Agriculture. In the "Little Black Dress" basket, you will find cocktail bottles, chocolate pralines stuffed with Amarena cherries, a jar of olives, a double bag of grissini, and a bag of nuts.
20:30 Doors open: A performance by the swing band The Betty Bears, an ensemble that revives the swing and Dixieland music of the 1920s and 1930s in New Orleans and presents new arrangements of the good old songs.
Ella Daniel: Vocals
Evyatar Hermesh: Bass
Avior Rokah: Trumpet
Dor Zehavi: Piano

21:00: Event begins

Due to the limitations imposed by the Ministry of Health, you may purchase one of the following tickets:
1. A double picnic basket and two entrance tickets for ILS160.
2. A picnic basket for three and three entrance tickets for ILS230.
3. Two double picnic baskets and four entrance tickets for ILS300.
For tickets you can also contact the offices of Eventer at *6627
Single tickets are unavailable.
The number of tickets is limited.
Places are unmarked.
The event will take place outdoors. We recommend wearing warm clothing.
Join our Facebook event