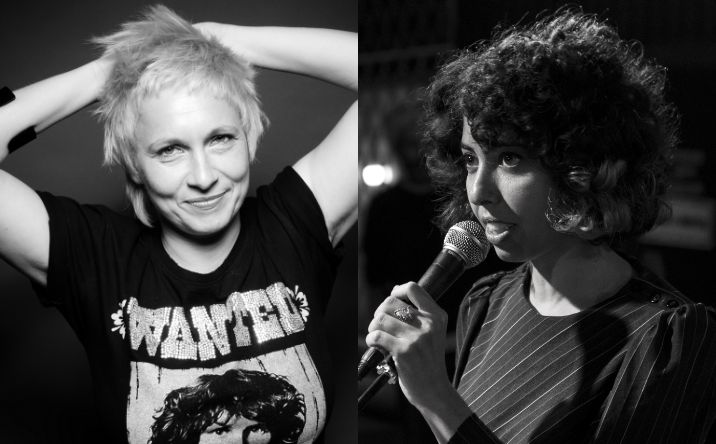 Photos: Ido Izsak, Genady Shkolnik
REMIX: A Special Podcast Project
With the support of the Beracha Foundation

Add To Calendar
5/11/2020 16:00
5/11/2020 18:00
Jerusalem
REMIX: A Special Podcast Project
Between words and Sounds with Adi Keissar and Ellyott
Adi Keissar, a poet and journalist, and Ellyott, a musician and DJ, present an online recording studio. Those who register for the project were invited to take part in a personal conversation with them during which they read from their own works of prose, poetry, and spoken word. These works were edited, accompanied by sound, and streamed in a podcast anthology. We invite you to listen to the podcast:
List of Literary Works
Part 1
1. Ayelet Tsabari – A passage from the book "The Best Place on Earth"
2. Odelia Vardi – The Heart of the Sea
3. Michal Pitowsky – Behind the Scenes
4. Adi Keissar – On the Knife
5. Jennifer Lang – Fire in my Mind
6. Eshkol Nevo – After Being Released from the Hospital
7. Ran Thaller – Between the Rooms
8. Regev Elharar – Split
9. Shelly Reizis – Ophir, Answer Me
Part 2
1. Dror Mishani – A passage from the book "Three"
2. Dafna Bar-Nes – Out of the Crisis of My Life I Stand Up
3. Danielle Weil – Exposed Nerves
4. Einat Greenberg – Finding the Balance
5. Matan Golzman – Get Used to
6. Shifra Cornfeld – A Meeting with a Writer at a Neighborhood Cafe
7. Liat Nobel-Krauss – A Poem for a Friend
8. Merav Fima – Counting of the Omer
9. Gal Iungman – The End of the World
The project is part of the Mishkenot Sha'ananim Residency Program, which also operates in the framework of the International Writers Festival.